STAY SAFE AND PRACTICE GOOD HYGIENE DURING THE
Beginning Wednesday, March 25th, 2020, Coast RTA will be reducing midday services on routes 7, 15 North and 15 South.

Updated Schedule Information is available at the attached link, posted on buses and on the Coast RTA Ridetracker App. Coast RTA is committed to preventive measures to limit the spread of COVID – 19. Our indoor passenger waiting areas are still closed until further notice. We are keeping the interior of buses as clean as possible and limiting the amount of passengers on buses at one time so that passengers can maintain social distancing. We ask for your cooperation and if you are sick – Stay Home! Please continue to use our Facebook and Twitter feeds, the website RideCoastRTA.com or the Coast RTA Ridetracker App for additional updates. As always, you can call our Customer Service line at 843-488-0865.
Check Out Our Ride Tracker
Need to know how to get from here to there? Look no further than our detailed Coast RTA maps and schedules to help you get on your way fast. Track your bus with the Coast RTA App!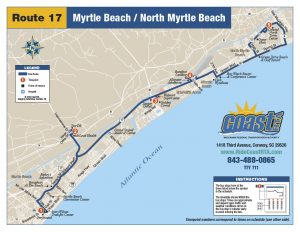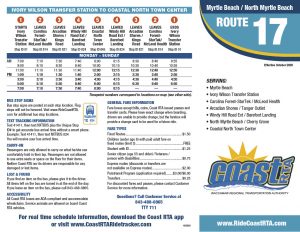 Announcing New Bus Service to North Myrtle Beach, via Carolina Forest!
Route 17 launched on October 1st! The route begins at the Ivory Wilson Transfer Center in downtown Myrtle Beach and travels up Grissom Parkway to the International Drive corridor of Carolina Forest, serving StarTek and McLeod Health.  The route continues north on US 17 serving Tanger Outlets, Barefoot Landing, Coastal North Town Center and resorts and attractions in North Myrtle Beach.  The route will reach Sea Mountain Highway to Ocean Boulevard, and back onto US17, via 27th Ave South, and travel back towards Myrtle Beach.
Conway (SC) – Due to impacts from Hurricane Isaias, the following service changes will occur: Service will be discontinued in Myrtle Beach at 6:15 PM. There will be departures from
Read More »