Check Out Our Ride Tracker
Need to know how to get from here to there? Look no further than our detailed Coast RTA maps and schedules to help you get on your way fast. Track your bus with the Coast RTA App!
TRAVEL ADVISORY

SERVICE CHANGES
Effective 8/20/21 Coast RTA needs to make the following service changes on Route 16 due to a driver shortage:
From Myrtle Beach Transfer Center (MBTC) to Georgetown

No departures at 12:30pm, 3:30 pm, 6:30 pm (LOCAL SERVICE)
From Georgetown Transfer to MBTC

No departures to MBTC at 2pm, or 8pm or 5pm
We advise our customers to utilize the 2pm or 5pm bus from MBTC to Georgetown; from Georgetown to MBTC, please use the 2:30pm or 3:30 bus.  
**Our 16 LIMITED STOP service is not affected.
Please contact our Customer Service Team at 843-488-0865 if you need immediate assistance or urgent transport.
For more information including additional route, schedule and fares information, call 843-488-0865 or visit the NEW Coast RTA website www.RideCoastRTA.com. Become a Coast RTA fan on Facebook or follow us on Twitter @CoastRTA. Coast RTA recommends tracking service in real time by downloading the APP at www.CoastRTARideTracker.com.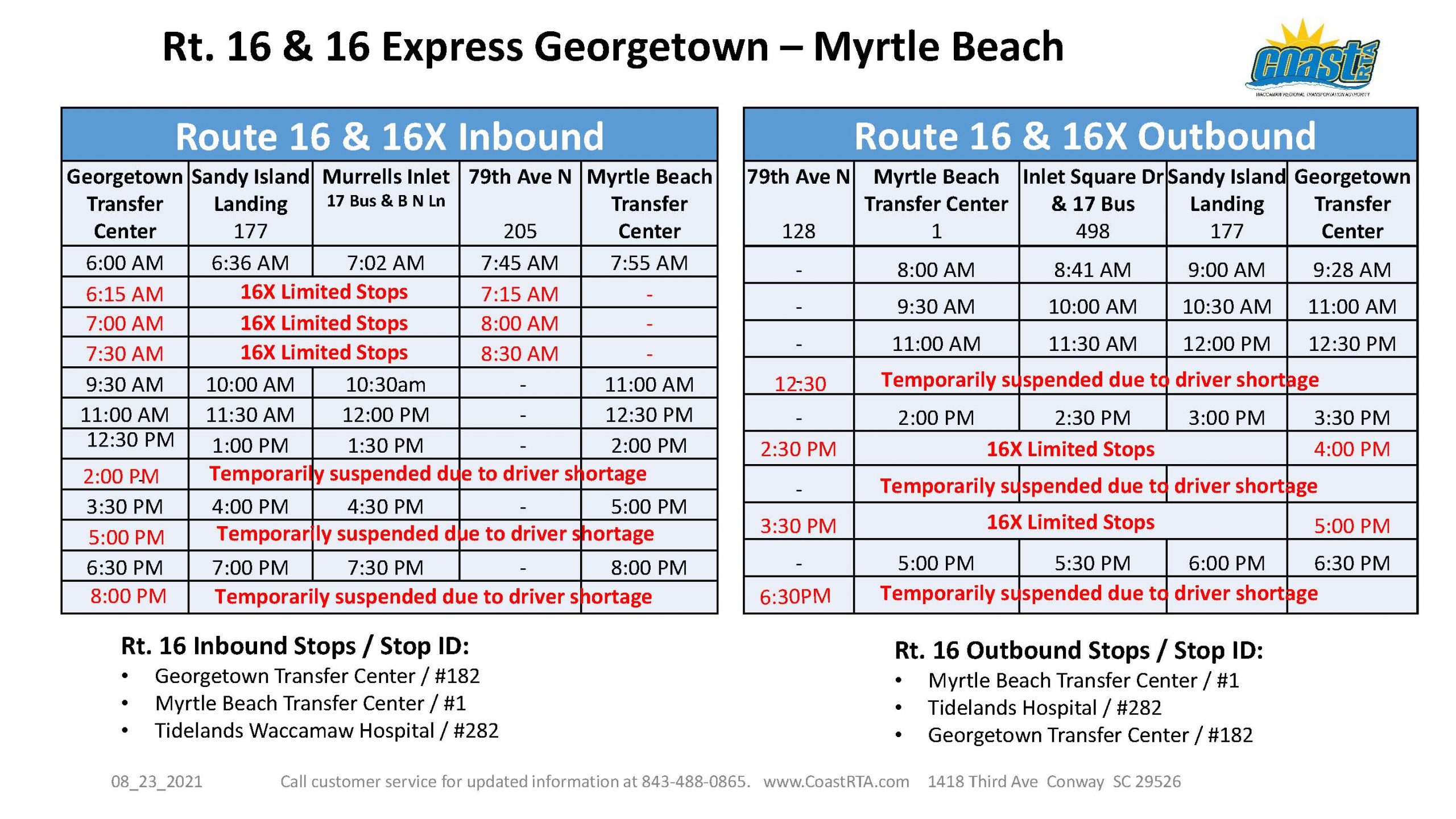 Detour for Route 16 and Route 16 Express starting today 1/20/21
Due to construction activity on Ocean Blvd, buses will detour to Kings Highway between 21st Ave North to 9th Ave North until further notice.
FOR IMMEDIATE RELEASE August 20, 2021 Service Changes and Public Input Notification Conway (SC) – Coast RTA is planning service changes on the following routes on September 19th: These changes
Read More »