STAY SAFE AND PRACTICE GOOD HYGIENE DURING THE
Beginning Wednesday, March 25th, 2020, Coast RTA will be reducing midday services on routes 7, 15 North and 15 South.

Updated Schedule Information is available at the attached link, posted on buses and on the Coast RTA Ridetracker App. Coast RTA is committed to preventive measures to limit the spread of COVID – 19. Our indoor passenger waiting areas are still closed until further notice. We are keeping the interior of buses as clean as possible and limiting the amount of passengers on buses at one time so that passengers can maintain social distancing. We ask for your cooperation and if you are sick – Stay Home! Please continue to use our Facebook and Twitter feeds, the website RideCoastRTA.com or the Coast RTA Ridetracker App for additional updates. As always, you can call our Customer Service line at 843-488-0865.
Check Out Our Ride Tracker
Need to know how to get from here to there? Look no further than our detailed Coast RTA maps and schedules to help you get on your way fast. Track your bus with the Coast RTA App!
Coast RTA is currently expanding bus service in Georgetown County!
EFFECTIVE IMMEDIATELY
Permanent Detour on Route 7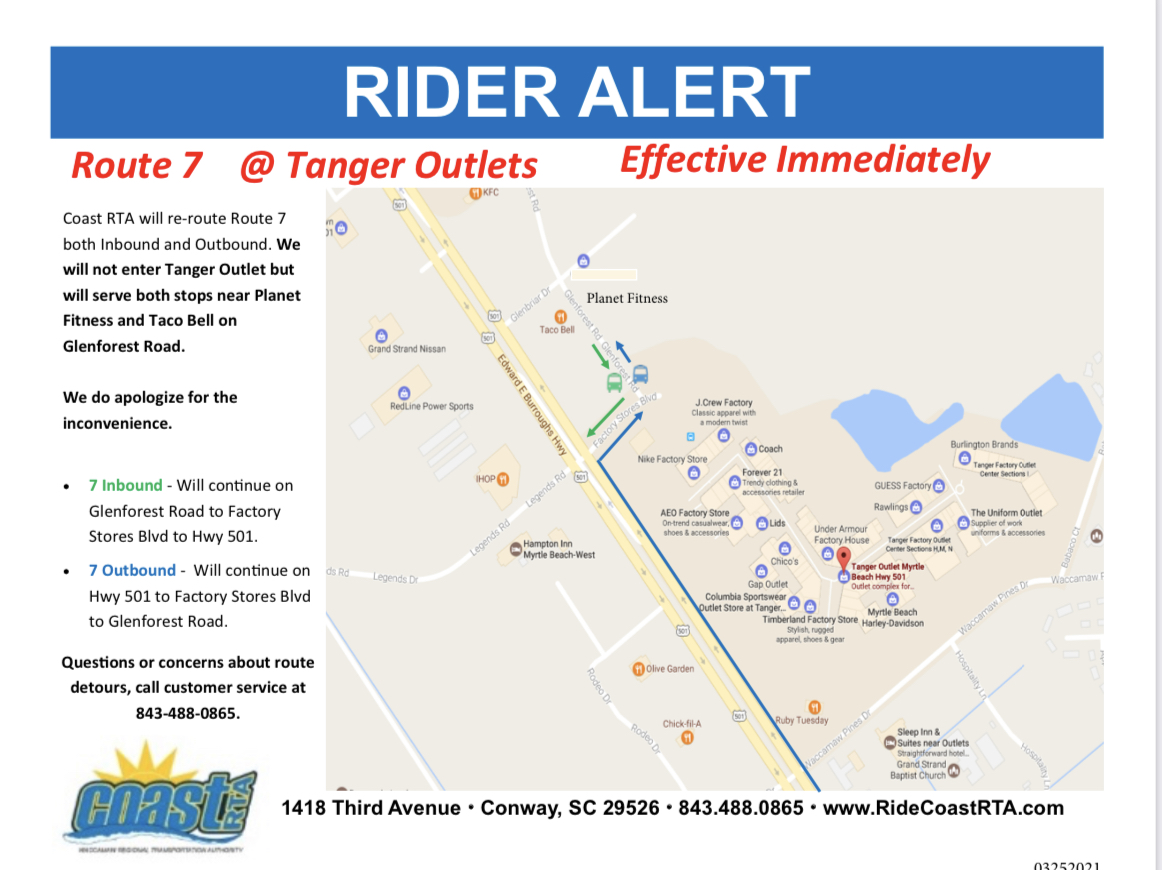 Detour for Route 16 and Route 16 Express starting today 1/20/21
Due to construction activity on Ocean Blvd, buses will detour to Kings Highway between 21st Ave North to 9th Ave North until further notice.
FOR IMMEDIATE RELEASE April 15, 2021 Coast RTA to Announce New and Expanded Service to Start May 1 in Socastee and Georgetown County  Conway (SC) – Beginning on May 1,
Read More »