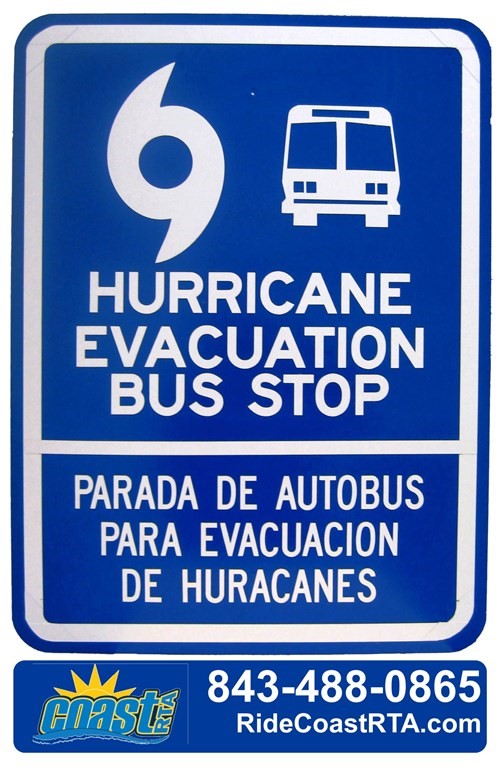 On Monday, September 2, Coast RTA announced its changes to the fixed and paratransit routes and its roll out of evacuation services. Coast RTA will operate its normal fixed route and paratransit schedule through Tuesday, September 3. Beginning Wednesday, September 4, the transportation authority will suspend all services until further notice.
Coast RTA will provide evacuation services Monday and Tuesday to a local shelter. Coast RTA may continue evacuation services on Wednesday, weather permitting.
There are 18 designated hurricane evacuation bus stops/pick up locations served by Coast RTA in Horry County. Coast RTA has posted blue and white hurricane evacuation bus stop signs at each of the designated hurricane pick up locations. Coast RTA will pick up residents waiting at these designated hurricane evacuation bus stops and transport them to an emergency shelter. When the Governor lifts the evacuation order and it has been deemed safe, Coast RTA will transport the residents back to the hurricane evacuation bus stops.
Coast RTA asks residents to limit belongings/bedding/luggage to one bag per person. No pets are allowed at the local shelters and therefore cannot be transported by Coast RTA to the shelters. For a complete listing evacuation/shelter tips and Coast RTA evacuation bus stops, visit RideCoastRTA.com.
Residents with special transportation needs may call Coast RTA's Customer Service to discuss options. For those needing shelters to accommodate special medical needs, please call SCDHEC's Careline at1.855.472.3432to inquire about accomodations.
Service updates will be announced through local media outlets and social media channels for evacuation transportation; as well as post-hurricane re-instatement of fixed route and paratransit service. For the latest updates on Coast RTA's bus service, call Coast RTA's customer service at 843.488.0865, check Coast RTA's social media platforms and its transportation APP.
For more information including additional route, schedule and fares information, call 843-488-0865 or visit the website www.RideCoastRTA.com.