Posted on Tuesday, July 05, 2011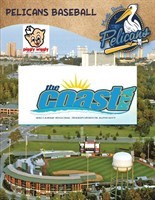 In celebration of our record ridership, this year we will be celebrating at BB&T Coastal Field during the Pelicans game on Thursday, July 14, 2011!
We will celebrate with one of our buses at the ballpark as well as a first pitch by Myers Rollins, our General Manager!
Tickets to the game will be available at a special price for you to purchase as well as a meal voucher that includes a hot dog, bag of chips and a small soft drink.
Game Tickets – $5.00
Game with Meal Tickets – $10.00