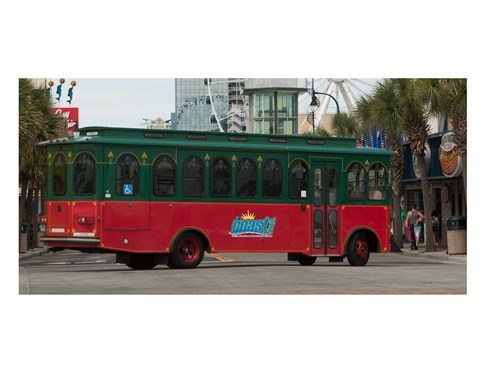 On Tuesday, May 28, Coast RTA's Entertainment Shuttle will roll into its eighth summer of chauffeuring tourists and local residents to area attractions, dining and select shopping destinations in downtown Myrtle Beach. The Entertainment Shuttle is a FREE shuttle designed for passengers to hop on and hop off at shuttle stops along the route.
"In 2018, we successfully expanded our Entertainment Shuttle's routes and hours. We decided to continue the momentum with the same route and schedule for 2019," said Brian Piascik, General Manager, Coast RTA. "The Entertainment Shuttle's route covers most of the attractions within the city limits of Myrtle Beach as well as diverse selection of shopping and dining options for visitors and residents alike."
The route serves destinations from 3rd Avenue South along Ocean Boulevard to 29th Avenue North and to attractions across from US 17 Bypass between 10th Avenue North/Mr. Joe White Blvd Ext and 21st Avenue North. The Entertainment Shuttle will operate from 9 AM until Midnight daily from May 28 through September 2. Points of interests along the Entertainment Shuttle include Broadway at the Beach; Broadway Grand Prix; Family Kingdom Amusement Park; Helicopter Adventures; Hollywood Wax Museum; Myrtle Beach Pelicans; Myrtle Waves; Plyler Park; Ripken Experience; Rockin' Jump; SkyWheel; Splashes Water Park; Zipline at the Pavilion; as well as select dining, shopping and hotels.
"Our hours of service are a benefit for anyone wanting to watch the fireworks, catch a Pelicans game, enjoy the night life or a concert downtown," Piascik added. "We designed the Entertainment Shuttle to allow visitors to stay parked at their resorts/hotels and ride to their desired entertainment or attraction along our route. Or, locals can park along the route and ride the Shuttle to the beach, downtown attractions or dining."
Passengers can track the Entertainment Shuttle in real time by downloading the APP at www.CoastRTARideTracker.com. The Shuttle operates continuously with service expected every 30 minutes. Entertainment Shuttle Map pads are distributed at area hotels, welcome centers and information centers in Myrtle Beach. For more information regarding the Entertainment Shuttle, call Coast RTA's Customer Service at 843.488.0865 or click here to download the 2019 Entertainment Shuttle map.
Passengers wishing to travel to other attractions outside of downtown can utilize Coast RTA's regular service. Coast RTA serves Market Common, the Myrtle Beach International Airport, Coastal Grand Mall and Tanger Outlets on its fixed routes. Coast RTA operates the following fixed routes: No. 1 – Conway Circulator; No. 2 – Conway to Loris; No. 3 – Conway to Bucksport; No. 7 and No. 7 Express (7X) – Conway to Myrtle Beach; No. 10 – Myrtle Beach Connector; No. 15 North and 15 South, choice of routes with select stops along Kings Highway and Ocean Boulevard from 82nd Avenue North to Market Common; and, the 16 and 16 Express (16X) [Georgetown routes]. Coast RTA fixed routes are $1.50 per ride for adults, $.75 per ride for senior citizens/disabled citizens and FREE for children, ages 6 and younger (limit 3). The Express Route fare from Georgetown is $2 per ride for adults. All transfers are $.25 each.