Posted on Monday, May 01, 2017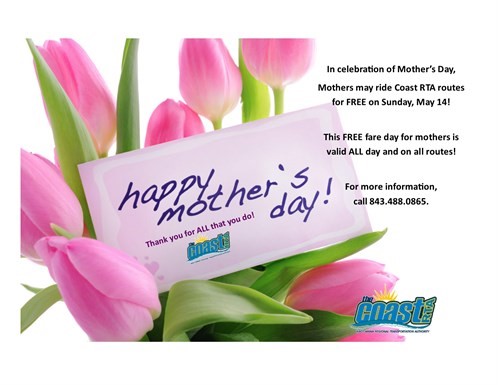 Coast RTA is honoring ALL mothers and grandmothers on Mother's Day. Mothers and grandmothers of all ages are invited to ride their choice of routes with Coast RTA for FREE on Sunday, May 14, 2017. This annual FREE fare day for mothers and grandmothers is valid on all fixed routes – all day on Mothers' Day. The bus system runs daily service in Horry and Georgetown Counties.
Coast RTA operates the following fixed routes: No. 1 – Conway Circulator; No. 7 and No. 7 Express – Conway to Myrtle Beach; the No. 10 – Myrtle Beach Connector; the 15 North and 15 South, choice of routes with select stops along Kings Highway and Ocean Boulevard from 82nd Avenue North to Market Common; and, the 16 and 16 Express (Georgetown routes). Paratransit services are excluded from the FREE fare celebration.
Coast RTA fixed routes are $1.50 per ride for adults; $1.25 students with ID; $.75 per ride for senior citizens/disabled citizens and FREE for children, ages 6 and younger (limit 3 with paid adult). The Express Route fare from Georgetown is $2 per ride for adults. All transfers are $.25 each.
For more information including additional route, schedule and fares information, call 843-488-0865 or visit the website www.RideCoastRTA.com.