Posted on Wednesday, April 01, 2015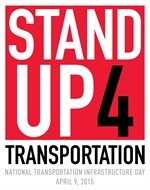 On Thursday, April 9, Coast RTA will join fellow public transportation agencies, transit authorities and support organizations by participating in Stand Up 4 Transportation Day.
The overall intent of this inaugural event unifying the transportation industry is to be a local day for national education and outreach to the general public and elected officials. And, the ultimate goal is to raise awareness of the perils and funding plight of the nation's transportation infrastructure. The American Public Transportation Association created Stand Up 4 Transportation Day to ask everyone in transportation and who supports the need for public transportation and better roads to send a message to Congress that America needs dedicated long-term funding through the Highway Trust Fund.
Coast RTA has participated or hosted several community events throughout the month of March to discuss transportation needs along the Grand Strand. In addition to those events, Coast RTA has scheduled the following events leading up to and celebrating Stand Up 4 Transportation Day on Thursday, April 9.
Transportation Forum at the Waccamaw Council of Governments Board Room at 6 p.m. Tuesday, April 7. This will feature community leaders, Coast RTA and concerned citizens/passengers in a panel discussion and town hall setting. Community transportation is the topic of this public forum and the need of public transportation in Georgetown and Georgetown County. The event will be held at 1230 Highmarket Street, Georgetown.
Stand Up 4 Transportation Demonstration/Street Team/Human Billboards will be strategically placed throughout Coast RTA's service area on Wednesday, April 8. There are select times to be watching for these transportation supporters. (Rain Date: April 9)
Community Leaders & Media invited to ride with Coast RTA officials – Wednesday, April 8 in Georgetown and Thursday, April 9 in Myrtle Beach 
FREE Fare Day on ALL Coast RTA fixed routes all day – Thursday, April 9. Passengers will ride for FREE on all of Coast RTA's fixed routes all day on Thursday, April 9 as a "thank you" to the residents for supporting Coast RTA throughout the year.
Coast RTA/Stand Up 4 Transportation Day at Myrtle Beach Pelicans' Opening Day – Thursday, April 9 at 7:05 p.m. – Coast RTA's ambassadors will be on-site to distribute materials on the benefits of public transportation and the need for Federal funding for roads, infrastructure and its effect on public transportation.
For additional details on the Stand Up 4 Transportation Day events or Coast RTA, call 843.488.0865.
About Coast RTA.
Founded in 1983, Coast RTA has seen a steady increase in ridership surpassing the million mark in 2013. Daily, Coast RTA transports passengers to and from their desired points of interest: jobs, shopping, school and medical appointments in Horry and Georgetown Counties. Coast RTA's mission is to provide safe, reliable, affordable, clean and courteous mass public transportation that enhances the quality of life for residents and supports the growth of tourism.