Posted on Wednesday, April 01, 2015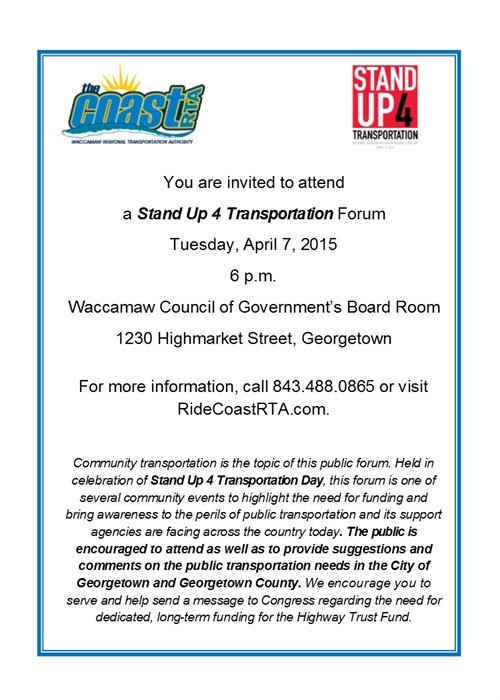 Georgetown (SC)– Community transportation is the topic of a public forum set for 6 p.m. Tuesday, April 7, at the Waccamaw Council of Government's Board Room, 1230 Highmarket Street, Georgetown. Held in celebration of Stand Up 4 Transportation Day, organizers say the public is encouraged to attend and share comments or suggestions with the panel for the public transit program.
The Community Forum is one in several community events to highlight the need for funding and bring awareness to the perils that public transportation and its support agencies are facing today.
"Coast RTA is joining fellow transportation authorities, departments of transportation and transit agencies to collectively call attention to the state of our transportation infrastructure in our country. Stand Up 4 Transportation Day is a local day for national education and outreach to the public and our elected officials. Its goal is to raise awareness for the nation's long-term transportation infrastructure funding plight," said Julie Norton-Dew, Interim General Manager of Coast RTA. "Each year, Coast RTA is faced with uncertainty in planning projects due to the lack of long-term funding. If Federal funding is reduced, there could be layoffs and alteration of services provided by Coast RTA as well as other transportation agencies who rely heavily on federal dollars."
Public transit and highway grants from the Highway Trust Fund require an authorization bill to be funded. As part ofStand Up 4 Transportation Day,transportation agencies are asking Congress to pass a new surface transportation authorization before the current grant MAP 21 expires on May 31, 2015. Congress will need to pass new legislation to authorize the continuation of the above-mentioned programs after the May 2015 expiration.
In addition to highlighting the Stand Up 4 Transportation Day initiative, input gathered from the public will be taken into account as staff reviews and updates the agency's transportation plan and routes, according to organizers. The information may be integrated into the annual application for funding such as Section 5311 and grants for rural areas.
Throughout the budget planning process each spring, Coast RTA works with municipalities regarding the funding needs for Coast RTA to continue to provide transit services to Horry and Georgetown Counties. The transit authority currently provides daily fixed route service in addition to federally-mandated Paratransit services.
According to Norton-Dew, public transportation provides much needed mobility for many residents along the Grand Strand as well as tourists who visit our beautiful beaches, golf courses and leisure/sports activities. She adds that Coast RTA assists in transporting a large percentage of these passengers to their destinations.
For those interested in providing input but unable to attend the public meeting, written comments may be submitted via the Coast RTA website at RideCoastRTA.com or mailed to: Community Relations, 1418 Third Avenue, Conway, South Carolina 29526.
Coast RTA operates the following fixed routes: No. 1 – Conway Circulator (Schedule runs 5 AM-9AM and 3PM-7PM); No. 7 – Conway to Myrtle Beach; the No. 10 – Myrtle Beach Connector; the 15 North and 15 South, choice of routes along Ocean Boulevard from 82nd Avenue North to Market Common; and, the 16 and 16 Express (Georgetown routes). Paratransit services are excluded from the FREE fare day. Coast RTA fixed routes are $1.50 per ride for adults, $.75 per ride for senior citizens/disabled citizens and FREE for children, ages 6 and younger (limit 3). The Express Route fare from Georgetown is $2 per ride for adults. All transfers are $.25 each. Multiple ride passes are available for purchase at Coast RTA, 1418 Third Avenue, Conway. For more information including additional route, schedule and fares information, call 843-488-0865 or visit the website www.RideCoastRTA.com.
About Coast RTA.
Founded in 1983, Coast RTA has seen a steady increase in ridership. In 2013, Coast RTA surpassed the million mark with 1,019,184 rides. Daily, Coast RTA transports riders to and from their desired points of interest, jobs, shopping, school and medical appointments in Horry and Georgetown Counties. Coast RTA complies with Americans with Disabilities Act. Coast RTA's mission is to provide safe, reliable, affordable, clean and courteous mass public transportation that enhances the quality of life for residents and supports the growth of tourism.