Posted on Thursday, March 09, 2017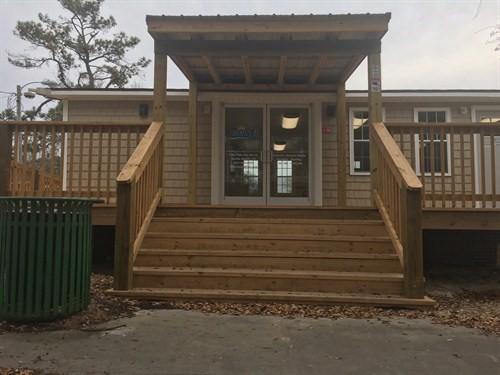 Coast RTA has scheduled a grand opening/rededication ceremony of its Myrtle Beach Transfer Center for 11:30 AM Tuesday, March 14. Located at 580 10th Avenue North, Myrtle Beach, the newly renovated building will serve as the main hub of Coast RTA's transfers along its fixed routes. Previously, Coast RTA had used several bus shelters, lining the street adjacent to Myrtle's Market and across from City Hall, as its Myrtle Beach area transfer center. In addition to the ceremony, Coast RTA will celebrate a Customer Appreciation Day throughout the day with various treats for its passengers.
"The Ivory Wilson Transfer Center will enhance the overall Coast RTA customer experience by providing our passengers and the general public with a modern, clean and visually appealing structure that will better accommodate our passengers' needs," stated Coast RTA General Manager Brian Piascik. "This new transfer center would not be possible if not for the partnership with the City of Myrtle Beach. We couldn't be more pleased with their willingness to assist us in obtaining an actual Transfer Center building for our passengers. Using any spare time they had, the Public Works staff and crew has spent months working on renovating this Center for us."
"We're happy to partner with Coast RTA to provide this facility. City staff worked hard to build an accessible structure with needed amenities to make the Transfer Station inviting and welcoming," City of Myrtle Beach City Manager John Pedersen stated.
The Transfer Center project included a complete repurposing of a city-owned building. The 960-square-foot building includes space for a main customer service lobby; ADA (Americans with Disabilities Act) accessible restrooms; construction of a 400-square-foot ADA compliant deck/ramp; Customer Service staffing area; and, a driver's "lounge" area for breaks. The Transfer Center will provide vending for passengers "on the go". Bike parking and benches are located on site.
"It warms my heart to see a dream become reality," said Coast RTA founder Ivory Wilson. "In 2008, we dedicated three bus shelters in Myrtle Beach to be our transfer center downtown; and, today, we're celebrating a milestone with a bricks-and-mortar center for our passengers transferring buses along our fixed routes. I've always believed that a strong public transportation system is critical for economic development when businesses research areas to relocate. Passengers who ride Coast RTA most often are traveling to make money or spend money. Having a reliable bus service is key to connecting Coast RTA's passengers to pockets of prosperity."
The new Ivory Wilson Transfer Center is essential in meeting growing passenger needs for service:
From November 2015 to November 2016, Coast RTA experienced a 12 percent increase in ridership along its fixed and paratransit routes.
Coast RTA has continued to improve its on-time performance with service expansion and route realignments along its busiest routes.
The following fixed routes will serve the Ivory Wilson Transfer Center: No. 7 and No. 7 Express (7X) – Conway to Myrtle Beach; the Nos. 10 – Myrtle Beach Connector; the 15 North and 15 South, choice of routes with select stops along Kings Highway and Ocean Boulevard from 82nd Avenue North to Market Common; as well as the 16 and 16X [Georgetown route].
In addition to those routes, Coast RTA operates: No. 1 – Conway Circulator and, three 16 Express (16X) routes [Georgetown routes]. Coast RTA fixed routes are $1.50 per ride for adults; $1.25 students with ID; $.75 per ride for senior citizens/disabled citizens and FREE for children, ages 6 and younger (limit 3 with paid adult). The Express Route fare on the 16 Express – is $2 per ride for adults. All transfers are $.25 each. For additional route information, schedule and fares information, call Coast RTA Customer Service at 843.488.0865 or visit www.RideCoastRTA.com. Or, to stay informed with the latest updates on route information, download the Coast RTA APP at www.CoastRTARideTracker.com.