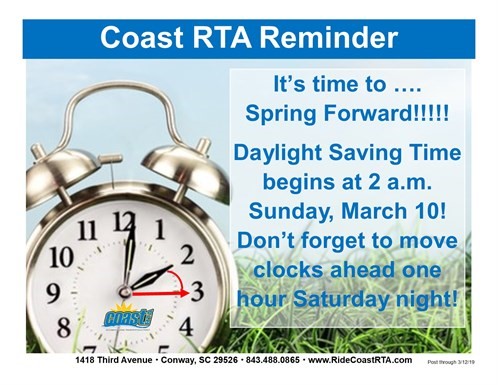 Old Man Winter may still be visiting us along the Grand Strand this weekend but that won't stop the clocks from "springing forward" an hour with the return of daylight saving time.
At 2 a.m. Sunday (March 10), the clocks move ahead one hour and we leave standard time behind. Remember to set your clocks forward one hour Saturday night before going to sleep. Otherwise, you will be REALLY late for church or work Sunday morning.
All fixed routes and paratransit buses will operate on their normal Sunday schedules.
Here are some tips to help your body adjust to daylight saving time:
1.) Don't change your schedule. Stick to regular waking, eating, sleeping and exercise times.
2.) Have a nighttime routine. Prepare your body for sleep by engaging in a few relaxing activities before hitting the hay.
3.) Avoid long naps. Keep naps short (between 20-30 minutes) to avoid disrupting your sleep schedule.
4.) Make time for the outdoors and enjoy the sunlight. Sunlight helps regulate your body's internal clock.
Tips Source: National Weather Service
For additional questions, please call Customer Service at 843.488.0865