Posted on Monday, August 14, 2017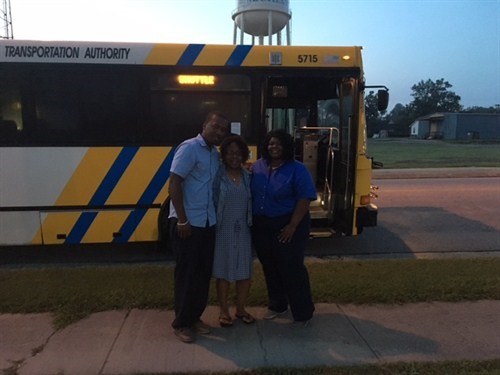 Coast RTA announced Monday that several of its Bus Stop signs for Route 2 – Conway to Loris are missing. Installed last week to inform the general public of the new route's designated stops, eight of the 14 signs are missing in the county between Conway and Loris.
"We first noticed the signs missing over the weekend," stated General Manager Brian Piascik. "However, we waited until Monday morning to contact County officials regarding any reasoning behind removal of these signs by officials. According to our contacts, no one with the County removed the signs over the weekend. At this point, we have determined that whoever removed the signs did so without authorization. We have been pleased with the launch of the new routes to Bucksport and Loris and won't allow the vandals to prevent us from celebrating the new service today."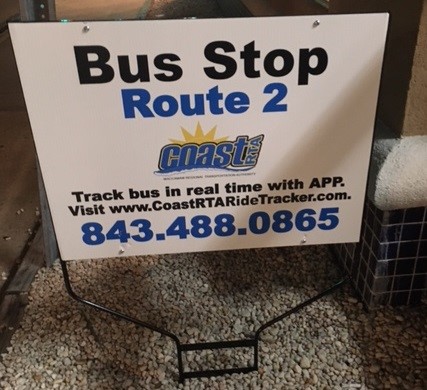 Coast RTA encourages anyone with information concerning the missing Bus Stop signs to contact the Horry County Police Department at 843.915.5350. However, if someone is willing to return the signs, they may do so at Coast RTA's Conway Terminal, 1418 Third Avenue, with no questions asked.
South Carolina Department of Employment & Workforce (DEW) recently awarded Coast RTA one of six grants across the state. The 18-month grant will help fund new service to the Loris and Bucksport communities thus removing the transportation obstacles to work, education and job training for residents in need of transportation. The new service launched on Monday and will provide three trips per day to the communities.
"I rode the bus this morning because I wanted us to support the new service to Finklea and be able to keep our bus service. This is a much-needed service for our community," commented Finklea community resident Sparkle Graham on riding the inaugural trip on Route 2. "I had an excellent experience this morning. And, plan to use Coast RTA to travel to the airport when I travel this fall."
Coast RTA's pilot program launched in time for residents to enroll in secondary education classes, Adult Education training or take advantage of employment opportunities.
Express service between Loris and Conway will be on Route 2 and between Bucksport and Conway will be on Route 3. In addition, Coast RTA operates the following fixed routes: No. 1 – Conway Circulator; No. 7 and No. 7 Express – Conway to Myrtle Beach; the No. 10 – Myrtle Beach Connector; the 15 North and 15 South, choice of routes along Ocean Boulevard from 82nd Avenue North to Market Common; and, the 16 and 16 Express (Georgetown routes). Coast RTA fixed routes are $1.50 per ride for adults, $.75 per ride for senior citizens/disabled citizens and FREE for children, ages 6 and younger (limit 3). The Express Route fare from Georgetown is $2 per ride for adults. All transfers are $.25 each.
Anyone wishing to learn more about the travel training workshops scheduled should call Coast RTA's Customer Service at 843.488.0865 during business hours.